Home
-
Return to Previous Page
KRYPTONITE UPPER CONTROL ARM KIT 1/2 TON TRUCK 6 LUG 2007-2018 (KRUCA12)
Description
KRYPTONITE UPPER CONTROL ARM KIT 1/2 TON TRUCK 6 LUG 2007-2018
Fits; 2007-2018 Chevrolet / GMC 2007-2018 1500 2WD / 4WD trucks & SUVsEquipped with Forged Steel Control Arms Only!
Part# KRUCA12
Kryptonite Upper Control arms are laser cut and welded into an extremely strong boxed design. Made with pride here in small townUSAand backed with a lifetime warranty. Kryptonite UCA kits will improve the ride of any Stock, leveled, or lifted GM1500 6 lugtruck. Theyare also a great upgrade for your stock height truck!
This Kryptonite Control arm kit is compatible with trucks originally Equipped with Forged Steel Control Arms mounted in the factory location ONLY!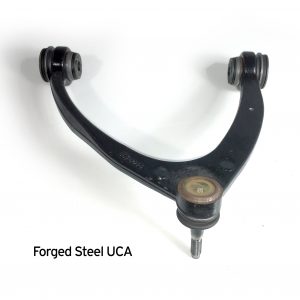 *If your Control Arm does not look like this, See Here.
Kit Includes everything needed for installation;
1 xKryptonite Upper Control Arm Pair

4 x Control arm sleeves

8 x Control arm Bushings

2 xKryptonite Bolt on Upper Ball Joints

1 x Hardware package
*OptionalUpgrade, add in Shopping Cart.
SUPERIOR TOP LOCKWITH NORD-LOCK STYLE FLANGE NUT, YOU CAN'T FIND A MORE SOLID CAM BOLT KIT ON THE MARKET. KEEP YOUR FRONT END ALIGNMENT IN CHECK WITH KRYPTONITE.
1 x Kryptonite Cam Bolt Kit Part# KR0026

The Kryptonite cam bolt kit is recommended to be replaced on and trucks located in a harsh climate or on any truck with high miles.
*Cam Bolt Kit will Not Work with an Upper Control arm drop lift kit. They will only fit if your Upper Control arms remain in the stock location.Contact uswith any questions regarding this.
---
(Kryptonite No Fine Print Lifetime warranty)-Kryptonite steering and suspension components are warrantied for life to their original purchaser. This warranty is against any manufacturer defects, premature wear or breakage.Race it, jump it, off road it, sled pull it, wreck it, lift it, level it, lower it, I think you get it?We dont care. If you can break it we will replace it. Kryptoniteproducts must be purchased from an authorized dealer.
Shipping Information
Item Requires Shipping
13608.0 lbs.
Customer Reviews
Total Reviews (0)
You must login to post a review.
---